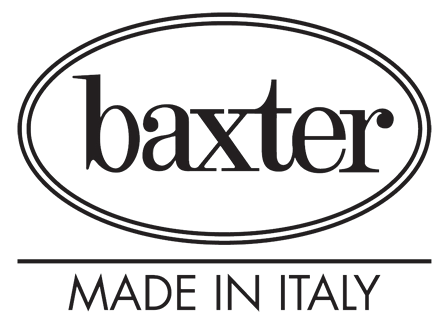 Baxter and Gerosa Design announce their new partnership
Baxter's history begins in 1990 in the creative pole of the Italian Design and well know area rich in high skilled labour, from a great entrepreneurial dream. A union among old handicraft traditions, experience and creative energy that has developed and grown up in time, nourished by an endless passion for what is beautiful, well done, thought and carried out in order to convey emotions. A family company. A concept which involves both the relationship with the whole staff and the distribution partners, with whom we set in a real symbiosis, that enables us to work and grow together. 
Baxter stands out for its multi-faceted spirit focused on design, trends, new concepts. It presents its designs in the form of creative room settings devised to contextualise its style and guide customers towards complete solutions.
Over the course of its history, Baxter has succeeded in developing a hallmark style concept based on the finest leather and the excellent workmanship of its products. It is therefore considered a unique brand devoted to a sophisticated clientele which appreciates contemporary luxury and moods that are consistently new and amazing.
GEROSA DESIGN becomes the main reference of Baxter on the national territory (
Como, Milan, Varese, Lecco and Monza and Brianza
) and internationally (Switzerland, European Union, United States, Asia ...).
Here is a selection of the best products of Baxter: